Brown eyes are beautiful on their own, but sometimes you might want to change things up and experiment with different eye colors. Colored contact lenses offer a fun and versatile way to enhance your natural eye color or completely transform your look. In 2023 the trend has been moving towards the most natural colored contacts so in this blog post we are going to share our top 10 best selling colored contacts for brown eyes.
1. Solotica Hidrocor Jade (Yearly)
Solotica Hidrocor Jade is known for its unbelievable natural green color. It can transform the look of even the darkest brown eyes into a mesmerizing natural green shade. With an annual replacement schedule, these green contacts provide long-lasting beauty and comfort for your brown eyes. And you can rest assured knowing that Solotica contact lenses are USA FDA approved which means that Solotica Hidrocor, Solotica Hidrocor Rio, Solotica Natural Colors, Solotica Aquarella Quarterly colored contact lens collections are safe to use and wear. Solotica contacts have passed the highest standards of quality control and recognized as one of the best colored contact lens brands adhering the health and safety of colored contact lens wearers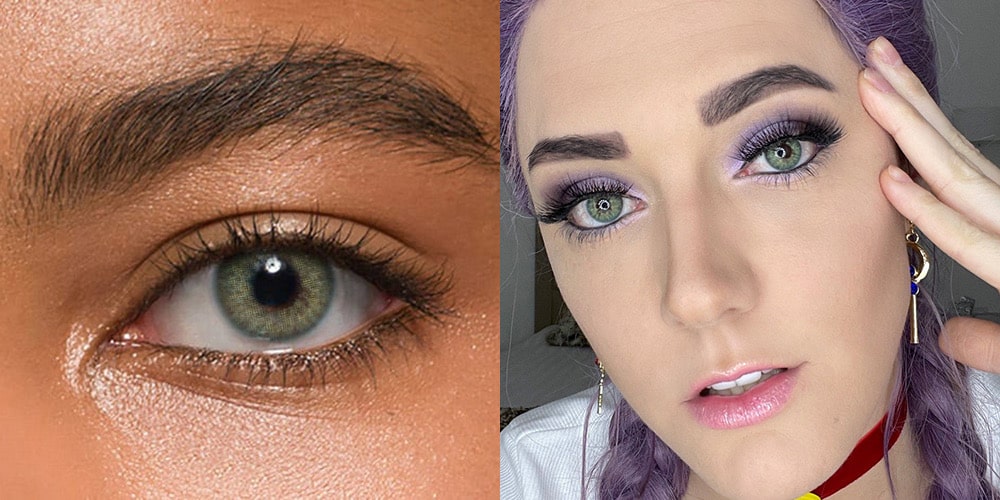 Diva Olivian monthly colored contacts offer a soft olive green hue with a dark outer limbal ring. These green contact lenses are perfect for those who want to experiment with just a subtle enhancement to their brown eye color while maintaining comfort and convenience of monthly colored contacts. The Diva brand of colored contacts are FDA registered and CE approved.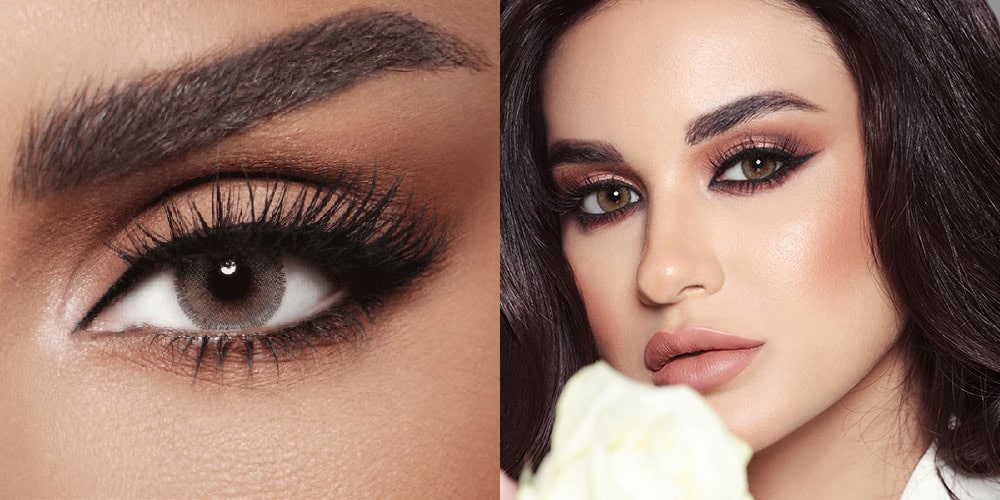 3. Cloeique Jade Green (Half-Yearly)
Cloeique Jade Green contacts offer a subtle and incredibly natural green color. This shade of green from Cloeique is our most natural looking green colored contact lens. It's a favorite of celebrities like Cindy Kimberly and is durable for up to 6 months, giving you ample time to flaunt and enjoy your new look. If you're looking for a natural green contact lens that blends with your eye color Cloeique Jade is the green contact lenses for you.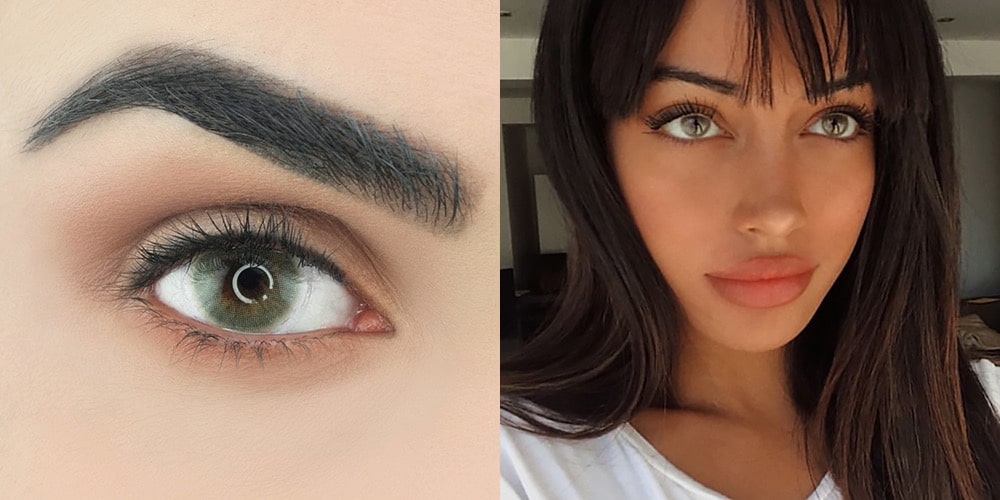 4. Nada Fadel Nadasky Lenses (Quarterly)
Always wanted baby blue eyes? Nada Fadel has you covered! These natural-looking yet not so subtle baby blue colored contact lenses with a subtle dark limbal ring, will have you glued to your mirrors. Nada Fadel Nadasky is combination of blue and grey tones that blend with your natural eye color. These blue contacts by Nada Fadel are known for their tightness and comfort and are designed for quarterly replacement which means every 3 months.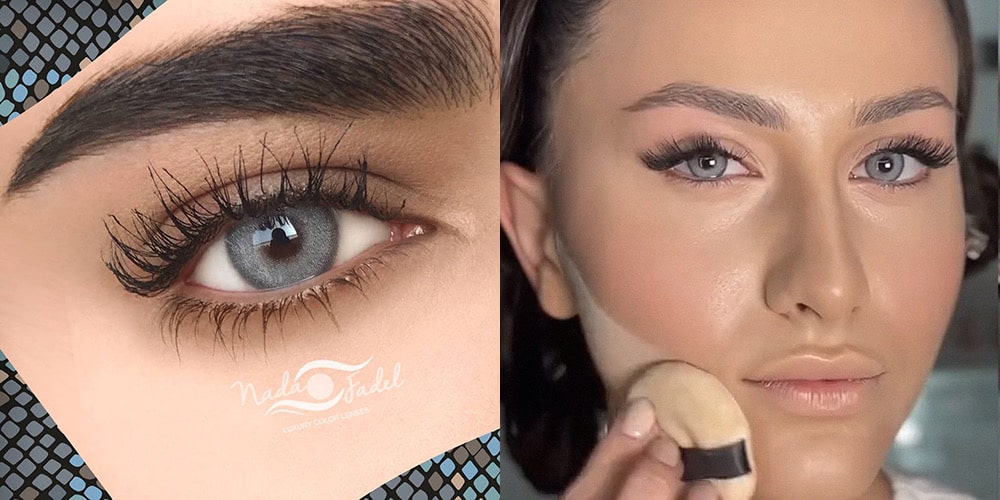 5. Bella Elite Sandy Brown (Quarterly)
Bella Elite Sandy Brown lenses offer a subtle brown gray shade that adds depth and sparkle to your eyes. Their quarterly replacement schedule ensures you can enjoy the look for an extended period of 3 months. Sandy brown adds a touch of lightness to your eye color and is the perfect hazel brown contacts for dark eyes. Bella colored contacts are USA FDA approved and CE approved in Europe.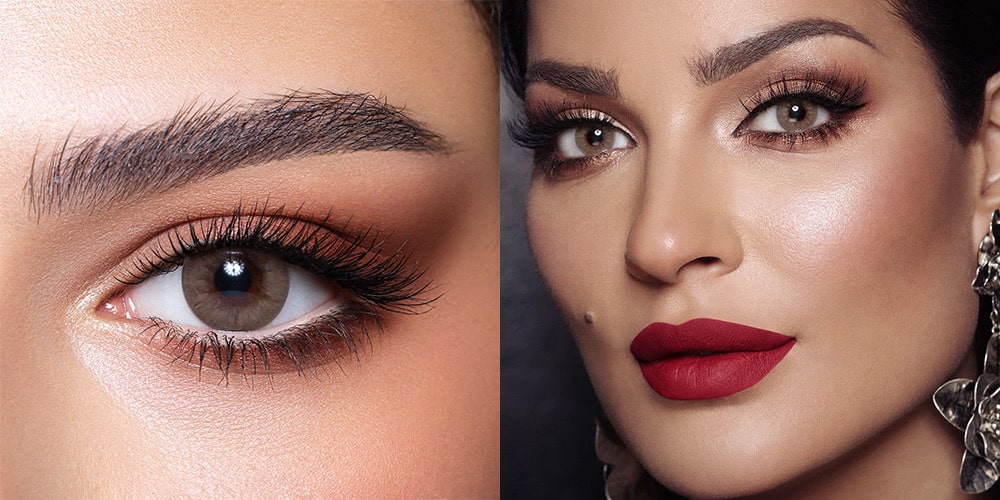 6. Anesthesia Addict Lolite (Half-Yearly)
Anesthesia Addict Lolite colored contacts is a blend of hazel in the center with gray and features a darker gray outer limbal ring. These gray contacts add a natural and warm look to your eyes and are durable for 6 months, giving you plenty of time to showcase your enchanting eye color. All Anesthesia lenses are both CE and USA FDA approved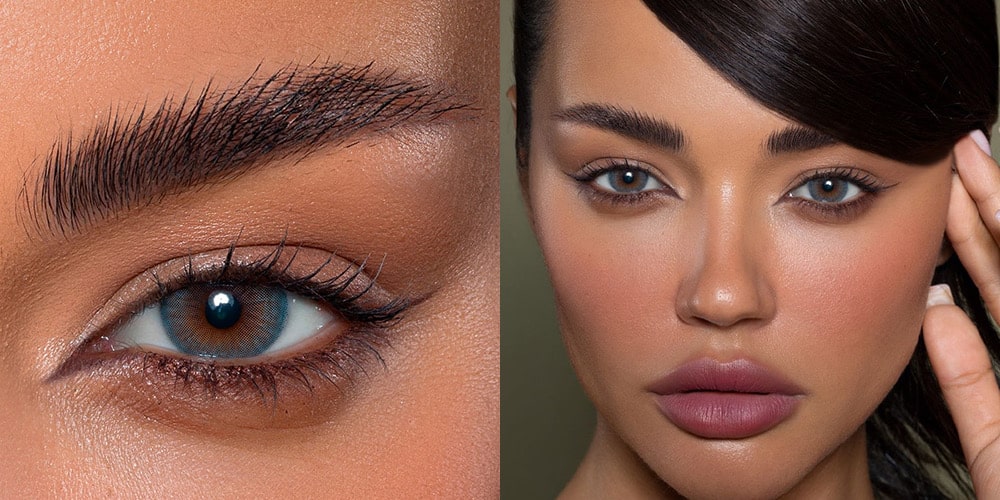 7. Anesthesia Addict Blue (Half-Yearly)
Featuring subtle shades of blue with tiny hints of brown, Anesthesia Addict Blue colored contacts look unbelievably natural and are one of the most popular choices for anyone looking for blue contacts lenses.These lenses are durable for 6 months and are FDA and CE approved for their safety and quality.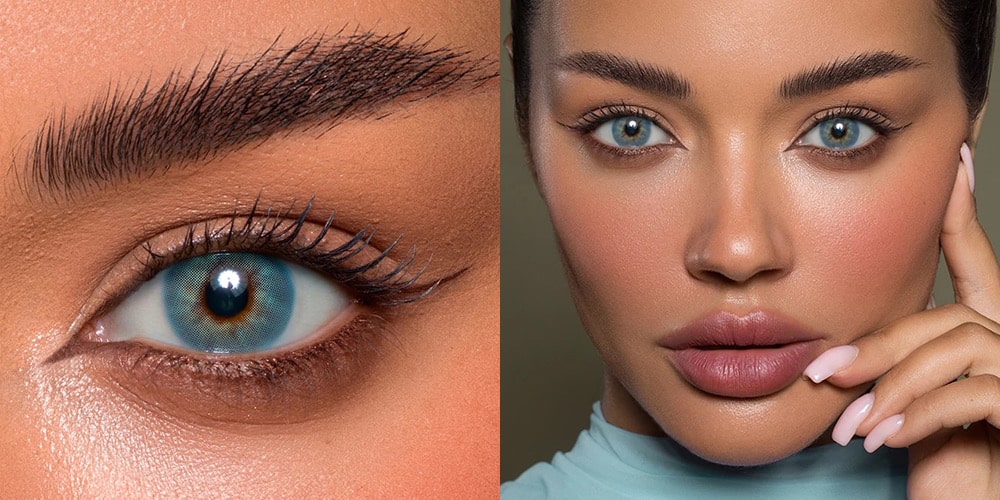 8. Anesthesia Addict Marron (Half-Yearly)
Another favorite from Anesthesia colored contact lenses is Addict Marron. This shade is a fusion of red and dark honey, accentuated by a faded contrasting ring. This lens enhances the glow and allure of your brown eyes giving them warmth and helps them pop. These warm brown contacts have a durability of 6 months and are FDA and CE approved.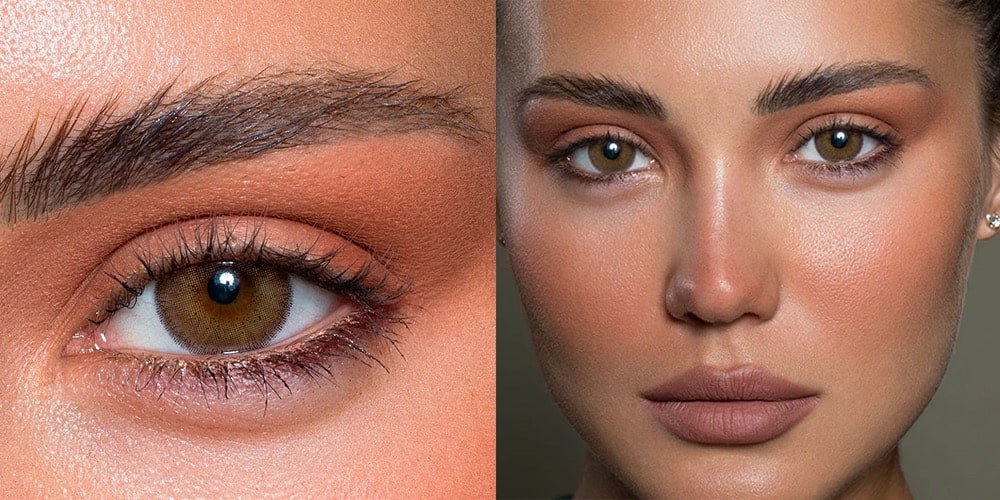 9. Cloeique Aqua Luxe Gray (Half-Yearly)
Cloeique Aqua Luxe gray colored contacts are a natural-looking gray that seamlessly blends with your brown eyes, creating a natural blended look. The dark limbal ring gives your eyes the appearance of having a slightly larger iris. Cloeique's Aqua Luxe gray colored contacts are half-yearly which means that they last for 6 months. If you're looking for gray contacts to enhance your dark brown eyes look no further!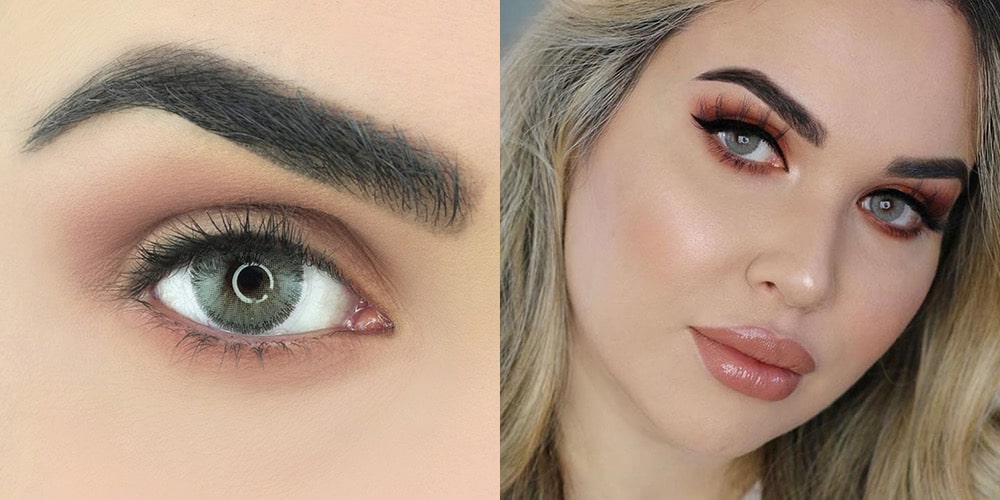 10. Solotica Hidrocor Agata (Yearly)
Solotica Hidrocor Agata is a subtle enhancement for brown eyes, providing a natural look that will brighten your brown eyes yet look undetectable. These lenses are designed for yearly replacement, allowing you to enjoy their beauty for an extended period.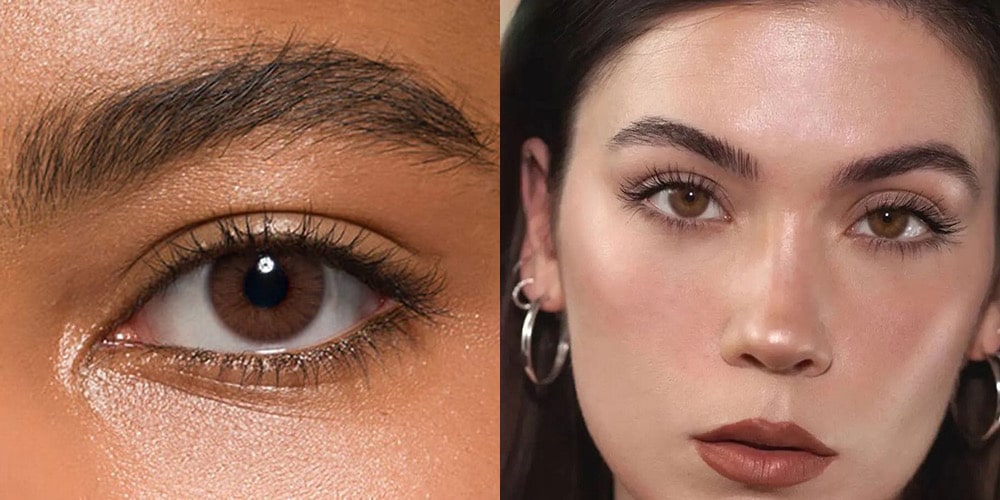 Conclusion
Enhancing the beauty of your brown eyes with colored contacts is an exciting way to change your appearance. The 10 colored contact lenses listed above offer a wide range of natural-looking yet head turning transformations. Whether you prefer green contacts, blue contacts, gray contacts, hazel contacts or other shades of colored contact lenses, there's a perfect choice for you in 2023.
Before trying any colored contact lenses, it's essential to consult with an eye care professional to ensure that your eyes are healthy and suitable for contact lenses. Additionally, always follow the recommended replacement schedule and handling and care instructions to maintain eye health and enjoy the full benefits of these stunning lenses.
Explore these top 10 colored contact lenses for brown eyes and give your eye color a captivating makeover from Luxe Lenses!