Posted by Luxe Lenses on on 22nd Mar 2023

Colored contact lenses continue to turn heads in the beauty and fashion industry by enhancing the appearance and style of popular celebrities at high-profile events such as the Met Gala, Golden Globes, Grammy Awards, Oscars, and Fashion Weeks, as well as on the streets of Hollywood.
Colored contact lenses have gained immense popularity due to their ability to achieve a dramatic and temporary change in appearance safely and easily. These lenses come in a variety of colors and styles, making it possible to experiment and transform dark brown eyes into mesmerizing shades of blue, gray, or green.
The trend of colored contact lenses has recently gained further traction, with several high-profile celebrities sporting them. Kim Kardashian, Kylie Jenner, Paris Hilton, and Nicki Minaj are just a few of the famous faces who have added a pop of color to their eyes with these trendy lenses. By wearing colored contact lenses, these celebrities not only enhance their natural beauty but also make a fashion statement that inspires many of their fans. It's no wonder that colored contact lenses continue to be a popular trend in the beauty and fashion industry.
In case you're wondering how to get the exact look of your favorite celebrity, Luxe Lenses has got you covered. We offer a wide range of colored contact lenses that can help you achieve the same mesmerizing shades as Kim Kardashian, Kylie Jenner, Paris Hilton, and Nicki Minaj. You can browse through different brands and colors and choose the ones that suit your style the best.
Below are some close-ups of the celebrities and suggestions of colors and styles that look identical to what the celebrity is wearing. With Luxelenses.com, you too can make a fashion statement and turn heads with your eye-catching lenses.
Kim Kardashian
Kim Kardashian's bold choice of gray colored contact lenses at Fashion Week turned heads and set a new trend in the beauty and fashion industry. Renowned for her captivating style and makeup preferences, the reality star's show-stopping appearance received widespread attention and admiration. By embracing colored contact lenses, Kim Kardashian has sparked a surge in interest, making this a hot topic among fans and fashion enthusiasts alike. We think Kim Kardashian is wearing the Bella Diamond Almond Gray Lenses with a dark limbal ring as you can see in the photo below. Follow this link to see the full variety of gray colored contact lenses at Luxe Lenses.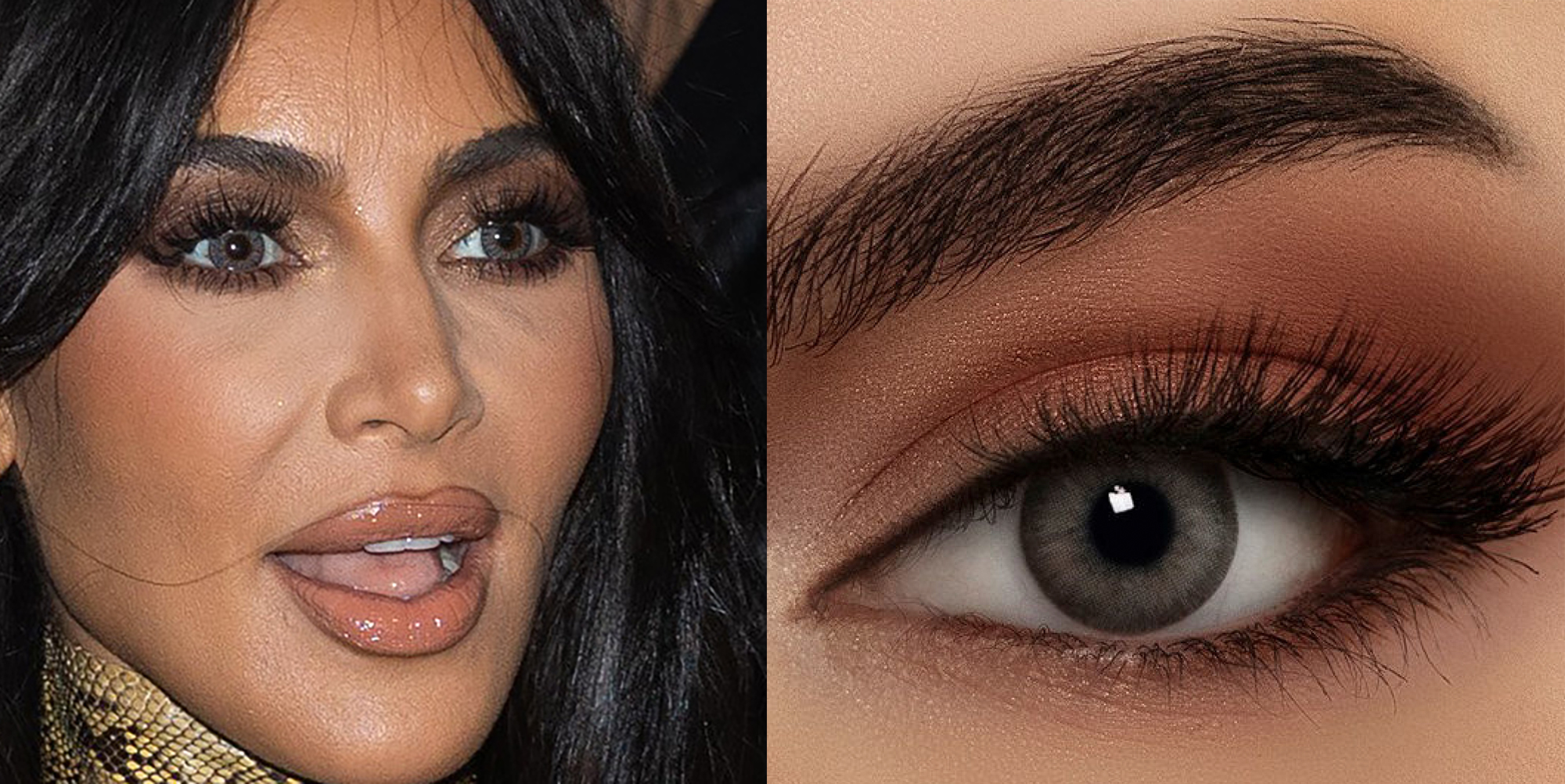 Nicki Minaj
Nicki Minaj is renowned for her bold and creative fashion choices, which include an ever-changing array of hair colors and styles. In line with this trendsetting style, the rapper was recently spotted sporting a pair of gray colored contact lenses, which perfectly complemented her fierce and fabulous appearance. Minaj's confidence in her creative process and willingness to experiment with new styles has made her a fashion icon, with fans eagerly following her every move. Get Nicki's look with our Amara Sky Gray Monthly Lenses.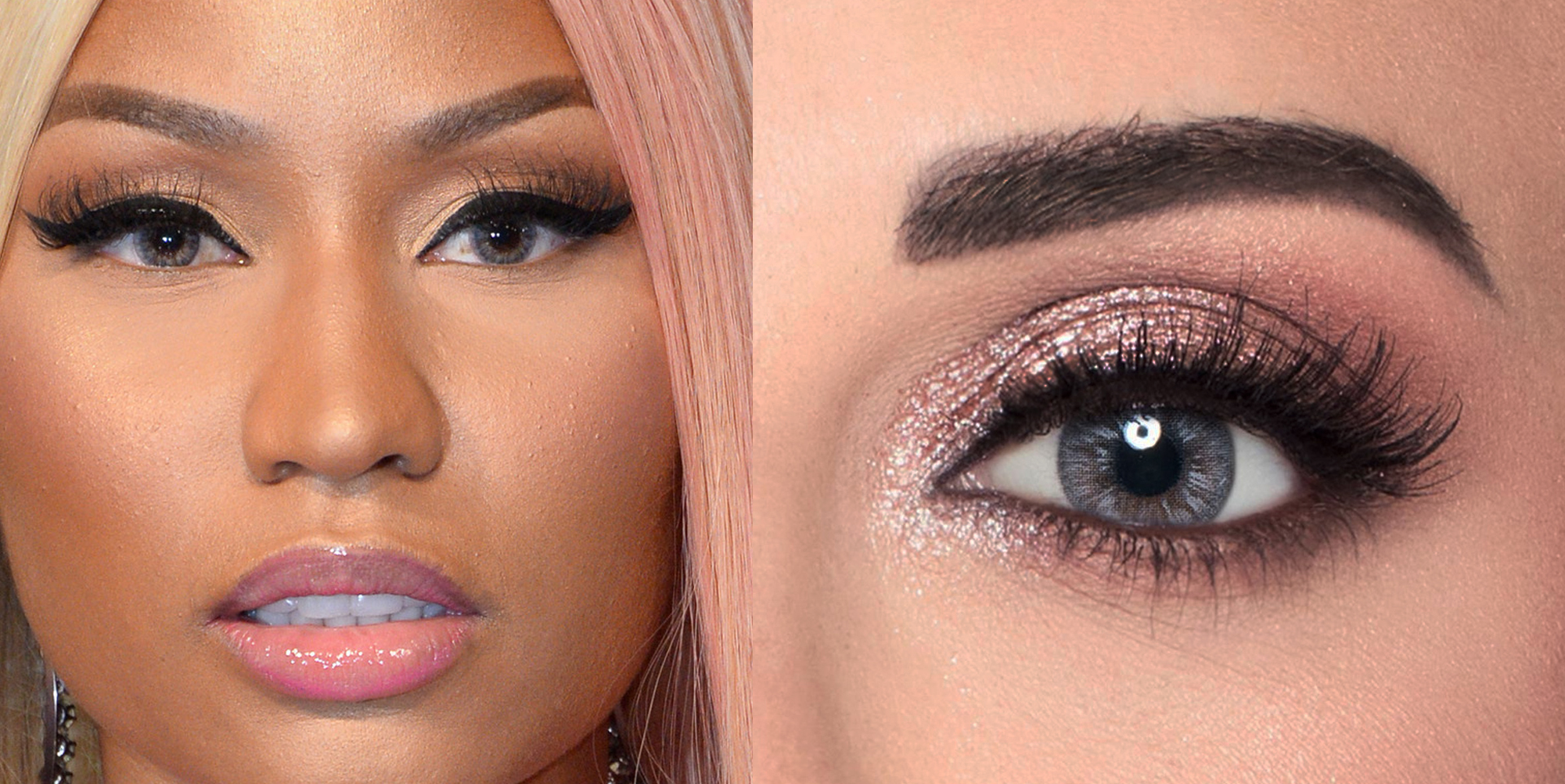 Kylie Jenner
Kylie Jenner is known for her stunning looks and trendsetting style, which often includes bold and daring beauty choices. At a recent Fashion Week event, the reality star was seen wearing a striking pair of blue contact lenses that perfectly complemented her fashion-forward outfit. Jenner's confident and fearless approach to fashion and beauty has earned her a legion of fans who are constantly inspired by her innovative looks. By donning blue contact lenses, Jenner has further cemented her status as a trendsetter in the beauty and fashion industry. With her daring and adventurous approach to style, it's no wonder that Kylie Jenner is one of the most influential celebrities of her generation. Follow this link to get Kylie Jenner's look with the Nada Fadel luxury colored contact lenses from Luxe Lenses.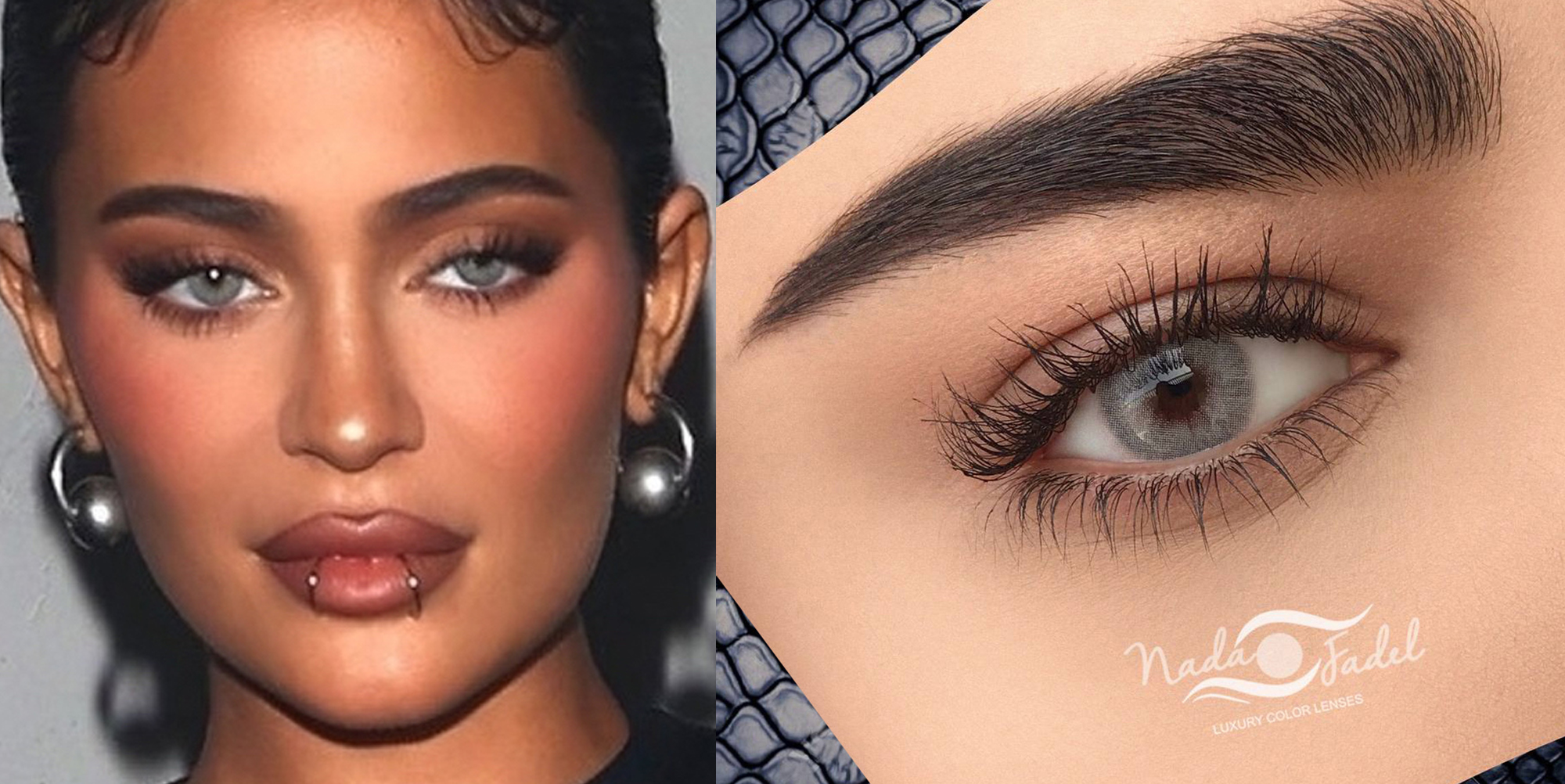 Paris Hilton
Paris Hilton made a dazzling appearance at the 2023 Grammy Awards. The celebrity entrepreneur wore a rhinestone-encrusted maxi dress with a revealing cutout that accentuated her toned abs. This was her first red carpet appearance since giving birth to her baby through surrogacy in January. Hilton's blonde tresses were styled in a sleek half-up, half-down with a mini topknot bun and money pieces framing her face. She completed her look with a dark smokey eye and a nude pink lip. However, it was her stunning blue colored contact lenses that caught the attention of many, perfectly complementing her elegant outfit and adding a pop of color to her overall appearance. As always, Paris Hilton continues to set the bar high for fashion and beauty trends. Get Paris Hiltons eye color with the Cloeique Flourite Luxe lenses.