Kylie Jenner's colored contacts have taken the internet by storm. Kylie, the ultimate beauty trendsetter, has mastered the art of reinventing her look with her unique style choices. One such fashion secret that consistently captivates her fans is her love for colored contact lenses. Specifically, her Solotica lenses collection. These lenses, available at Luxe Lenses, have taken the internet by storm, inspiring a trend among her followers eager to emulate her captivating eye looks. Luxe Lenses has been specializing in Solotica Lenses since 2014 and were the first to spot and identify the exact shades Kylie Jenner wore. Join us as we delve into Kylie Jenner's eye color evolution, uncovering the enchanting array of colored contact lens shades she's sported over the years, exclusively from Luxe Lenses

A Kaleidoscope of Eye Colors: Kylie Jenner's Love for Solotica Colored Contacts:
Kylie Jenner's captivating allure goes far beyond just skin-deep - her eyes serve as a striking canvas for her fashion expressions. Her eyes have donned an array of colors, from icy blues and vibrant greens to smoky grays, thanks to her go-to brand Solotica. Known for their premium colored contacts, Solotica lenses have become integral to Kylie's signature look, particularly their exquisite collection of blue and gray lenses.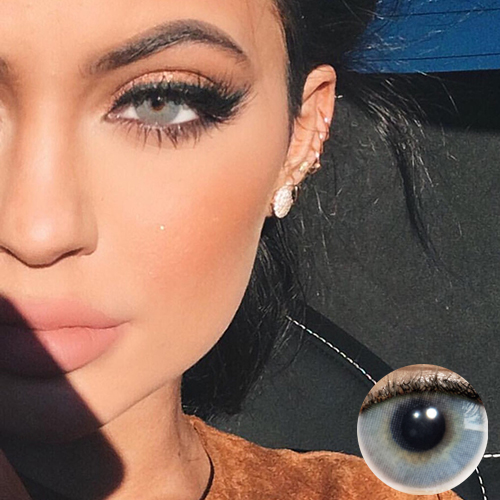 Achieving the Kylie Jenner Icy Stare: The Enchanting Solotica Hidrocor Ice Colored Contacts:
One of Kylie's top colored contact lenses choices is the Solotica Hidrocor Ice. From Instagram posts to her iconic Christina Aguilera Halloween costume and casual outings with friends, this icy blue hue has enhanced Kylie's natural eye color, making her eyes the star of her every look. This must-have Solotica lens is a favorite among fans seeking to mirror Kylie's eye-catching charm.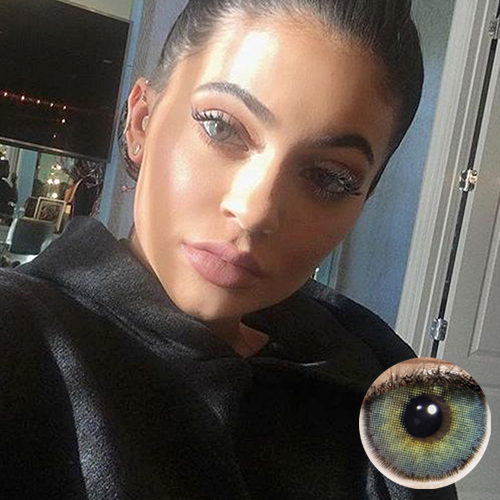 Embodying the Kylie Jenner Mystery: Solotica Natural Quartzo Colored Contacts:
Another favorite colored contact lens in Kylie Jenner's collection is the Solotica Natural Quartzo. This blue-green lens, complemented by a dark limbal ring, has graced Kylie's eyes on multiple occasions, enhancing her natural allure and mystery.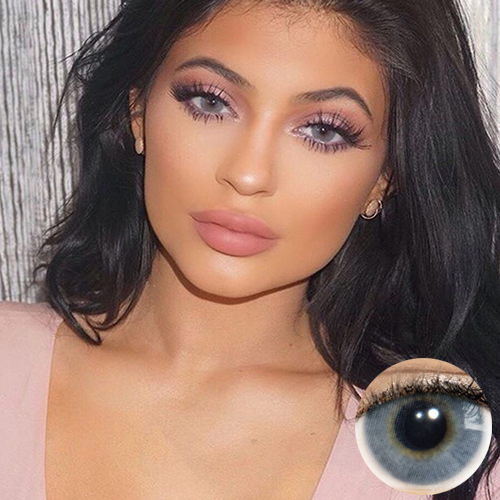 Kylie Jenner's Red Carpet Secret: Solotica Hidrocor Graphite Colored Contacts from Luxe Lenses:
Another standout in Kylie Jenner's contact lens wardrobe is the subtly stunning Solotica Hidrocor Graphite. This dark bluish-gray lens has been spotted on Kylie at numerous red carpet events and in many of her Instagram posts. The Hidrocor Graphite is subtly captivating, casting a smoky hue that is as unique as it is beautiful, creating a striking contrast with her dark hair.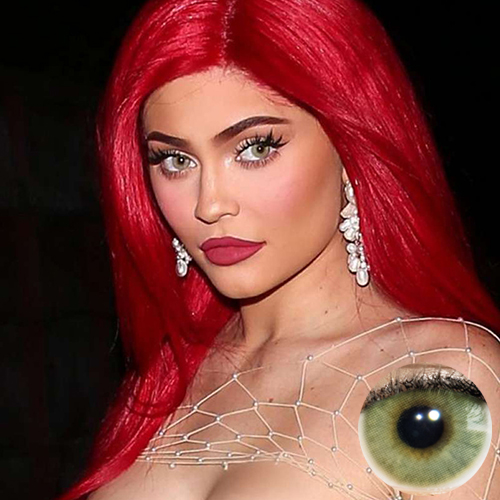 The Enchanting Secret of Kylie Jenner's Halloween Look: Solotica Hidrocor Mel Colored Contacts:
The Solotica Hidrocor Mel is a remarkable light green colored contact lens that Kylie has sported, most notably when she dressed up as Ariel for Halloween. Whether she's embracing a sultry evening look or a chic daytime style, Hidrocor Mel perfectly complements her fashion statements.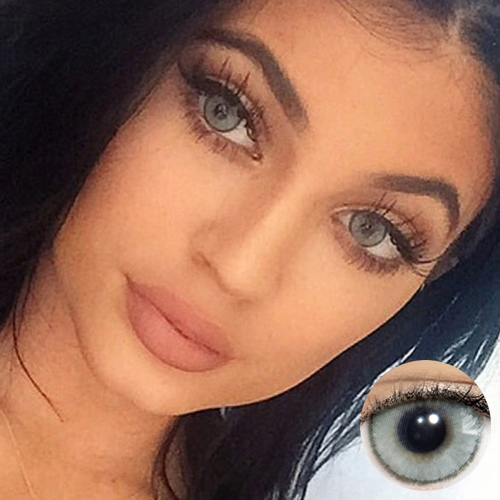 Radiating Kylie Jenner's Natural Elegance: Solotica Natural Colors Cristal Colored Contacts:
Kylie also favors the light gray beauty of Solotica Natural Colors Cristal colored contacts. This shade, with its contrasting dark limbal ring, adds charm and a striking contrast with her dark hair. Whether she's aiming for a relaxed everyday look or a subtle glam vibe, Cristal lenses from Solotica effortlessly accentuate her natural beauty.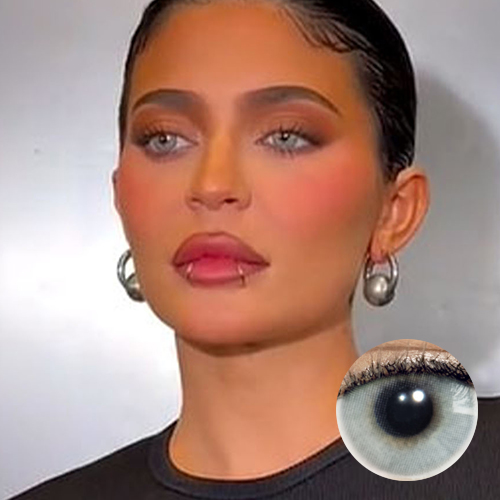 Latest Sightings: Kylie Jenner Dazzles at Balenciaga Afterparty with Solotica Hidrocor Cristal Colored Contacts:
The fashion world's spotlight was recently cast on Kylie Jenner once again when she made a dazzling appearance at the Balenciaga afterparty during Paris Fashion Week. Raising the style stakes, Kylie showcased her penchant for colored contacts, donning a pair of Solotica Hidrocor Cristal lenses. These captivating blue lenses not only enhanced her chic ensemble but also added an extra layer of mystique to her look, beautifully illuminating her eyes. Her trendsetting choice in eye color not only captured the attention of fellow party-goers but also served as a testament to the transformative power of Solotica colored contacts. This recent sighting is another reminder of how colored contact lenses have become an integral part of Kylie Jenner's fashion arsenal, inspiring fans and fashionistas worldwide.
Shop the collection of Solotica lenses seen on Kylie Jenner HERE.
Kylie Jenner's dynamic style evolution, defined in part by her striking colored contact lenses, continues to captivate fans worldwide. Her cherished Solotica lens collection features a spectrum of spellbinding colors from the icy blue Hidrocor Ice to the multifaceted Natural Quartzo, the enchanting grayish-blue Graphite, and the vibrant Hidrocor Mel. Most recently, at the Balenciaga afterparty, she mesmerized onlookers with the stunning Solotica Hidrocor Cristal lenses, adding another hue to her vibrant eye color palette.
But Kylie's eye-catching transformation doesn't stop with Solotica. In recent years, other high-end brands like Anesthesia, Nada Fadel, Cloeique, Amara, and Diva have also launched colored contact lenses that surpasses the natural, enchanting look that Solotica offers. With a range of hues and designs as varied as your wardrobe, these brands offer even more options for those seeking to change up their look with colored contacts.
As Kylie's style journey unfolds, her love for colored contact lenses - Solotica, Anesthesia, Nada Fadel, Cloeique and Amara - remains a beacon of inspiration for beauty enthusiasts and trendsetters across the globe. Whether on the red carpet or her Instagram feed, each lens adds a unique charm and depth to her legendary looks. Ready to step into Kylie's world, or explore other stylish options? Shop the Solotica lens collection as seen on Kylie Jenner HERE, or browse through a wider range of options in our contact lenses shop by color section HERE. Join the colored contact lens revolution today, and redefine your style with every blink.